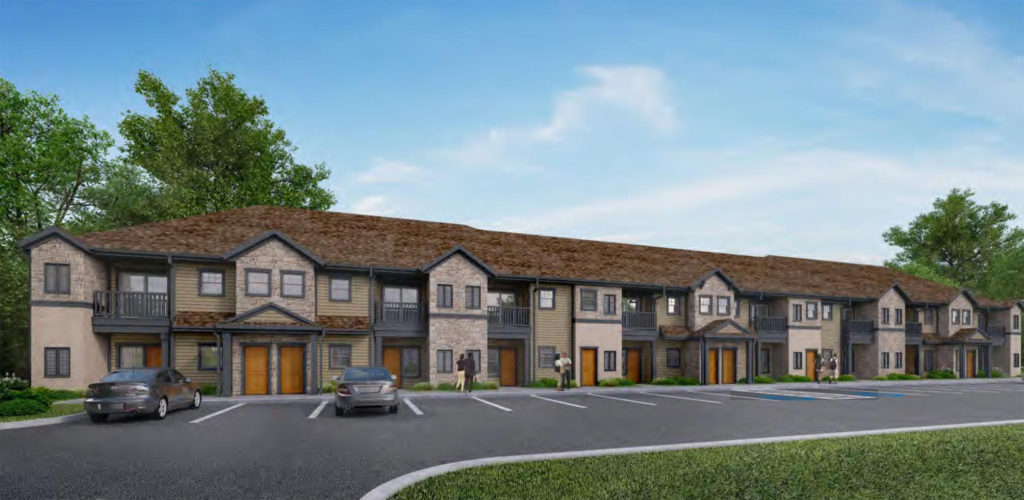 Three new apartment projects would bring nearly 200 units to Kenosha
Several large-scale apartment developments planned in different areas of the city are moving through the review process, including a two-part project in the Downtown corridor.
The Kenosha Plan Commission on Thursday reviewed the latest sets of plans for the 101-unit Simmons Terrace, 5939 7th Ave., and the 59-unit Theater Terrace, 5929 6th Ave.
Additionally, the panel advanced the 30-unit Arbor Apartments project at 1915 30th Ave.
Illinois-based Woodview Group, which developed the 68-unit Lake Terrace Apartments at 5900 4th Ave., is the company behind Simmons Terrace and Theater Terrace.
During Thursday's review, commissioners combed through preliminary details of the Simmons and Theater projects as a precursor to approving a site plan, land rezoning, conditional-use permit and a number of other approvals that will be required before work gets underway.
The Simmons development would take the place of an existing BMO Harris Bank branch and a small commercial and residential building to the north. Both buildings would be razed. The Theater project would go on two parcels — one currently vacant; the other, a two-story multi-family residential building.
Ald. Bill Siel, who represents the area of the residential projects, said he supports the plans presented.
"It's a great development opportunity," Siel said. "I think (the developers) will facilitate a quality product."
While there was widespread support for bringing more housing to the area, several commissioners weighed in on the building designs and their compatibility with the existing historic buildings.
"I do have to say that as I looked at (the designs), I was a little underwhelmed," Ald. David Bogdala, who serves on the Plan Commission, said.
Commissioner Lydia Spottswood said she believed the plans submitted were middle ground — not mimicking the historic character of the area, but not going the other direction either.
"It feels drab to me. I don't feel like there's any visual punch to it," Spottswood said. "I would rather see a more clear, contemporary approach, rather than something in the middle."
Burlington-based PSG Inc., the company behind Arbor Apartments, initially went before commissioners last fall with a 32-unit development. More recently, the size and scope of the project has been tweaked, and it now has two fewer units.
The Arbor Apartments will have a specialized focus for people with disabilities, and a staff person would be on site at all times.
PSG is in the process of seeking a conditional-use permit to move the project forward. Commissioners granted preliminary approval Thursday, setting the stage for a second, and final, reading and a public hearing next month.
Read more at the Kenosha News.
Back