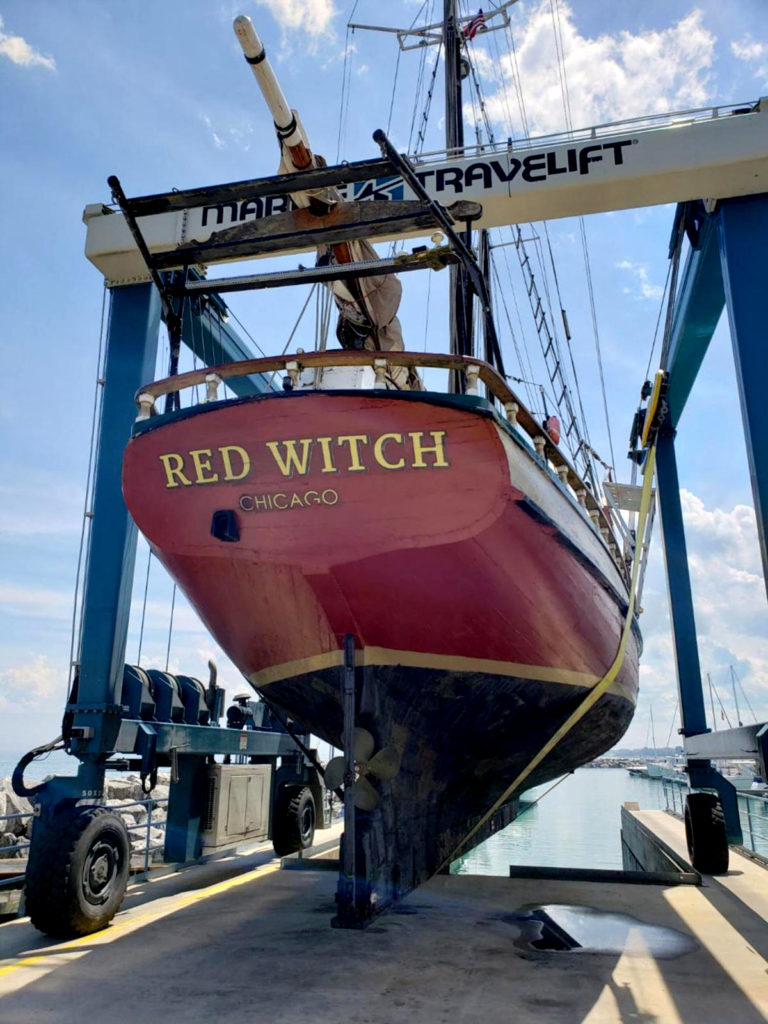 Red Witch ready to set sail
In a year full of abnormal, Red Witch Captain Andrew Sadock is hoping to offer a much-needed break from the chaos.
And he's counting on the public's help to make that happen.
Sadock and the ship he's owned the last 10 years officially will be back on the Lake Michigan waters and open for business for both private and public bookings as of Friday after so many months of uncertainty because of the ongoing COVID-19 pandemic.
Speaking from the Southport Marina on Monday, where Sadock was putting the finishing touches on preparing the Red Witch and another ship, the Jakab, for a Coast Guard inspection Wednesday, he said the excitement is building to get out on the water with as full a boat as social distancing will allow.
"Right now, there's still nothing to do," he said. "I know it's frustrating for a lot of people, and it feels abnormal. Red Witch is one of the few normal things we can do now. It's outdoors. It's like going to the park. … We're trying to offer a chance to be outdoors, a chance to do something beautiful that's special in a year that really is an odd year."
And both vessels couldn't be any more different, which will give potential guests different experiences to enjoy.
The Jakab, originally designed in 1907, is a former America's Cup racer that specializes in speed — the Red Witch was created based on an 1830s design as a cargo-carrying vessel. The Red Witch is the last remaining commercial wooden vessel in southern Lake Michigan, Sadock said.
"Jakab is built to go fast; she fits 40 people," Sadock said. "The Red Witch is slow, but she's beautiful because she's (all) wood."
Jakab was located in Milwaukee a year ago before coming to Kenosha for this summer, Sadock said. Just three Jakab's were built, one owned by Ted Kennedy, one by the Beach Boys and a third that sailed twice around the world.
Both ships currently in Kenosha are replicas of the originals. Jakab stands apart from Red Witch because of all the technology aboard, Sadock said. The current version of the Red Witch was built in 1986.
"We hope people will take advantage of sailing aboard Jakab, especially for those who have been on Red Witch," he said. "They're two different animals. Red Witch is gorgeous because she's wood; Jakab is fun because she's fast."
Prior to Wednesday, ships are regulated to within one mile of shore when Lake Michigan is considered to be "cold water," Sadock said. After Wednesday and until Sept. 15, that regulation moves to three miles from shore in "warm water."
And the views looking into Kenosha are breathtaking, he said.
"The most beautiful view of Kenosha is not from Kenosha taking pictures of Red Witch, (it's) from Red Witch taking pictures of Kenosha," Sadock said. "A gazillion people send me pictures of Red Witch. We want the pictures of Kenosha from Red Witch.
"The sunsets are gorgeous, and the lakefront is gorgeous. You just get a really unique view once you get out there."
COVID precautions
With the ongoing pandemic firmly in mind, Sadock, who has been sailing for 30 years, said there will be some changes visitors to either ship will see this summer.
Social distancing measures will be in place on the dock, and gloves and masks will be available for those who want them. Visitors also are allowed to bring their own with them, or if they're comfortable without gloves and masks, that's acceptable as well, Sadock said.
Sadock will don both, as he helps patrons aboard the boat — to avoid an untimed plunge into the lake.
As for onboard, there will be a limit of 30 patrons who will be stationed every other seat for their charter trip on the lake.
"I know so many people have come by us and said, 'We love having you here, please come back out, it will feel like the summer is normal if the Red Witch is sailing,'" he said. "Otherwise, it feels abnormal. We're trying to support the community."
To say the past several months have been difficult in the boating business would be an understatement.
Sadock said he was on the verge of putting both up for sail and added that he's had to take on a job as a semitrailer driver to help finance the venture — and he's done everything to prepare as a solo act, as he's entering the summer without a crew.
It hasn't been an easy journey for sure.
"We've gone on Facebook and said, 'We're not asking for donations. We're asking for people to go sailing and pay for a ticket or pay for a private event,'" Sadock said. "That will save this business."
In a normal year, Sadock said the lines would be forming for charters in January, but when the pandemic struck, the reservations sank right to the bottom.
And now that the 2020 opener is near, he's hoping to see those numbers take a big jump forward.
It's most definitely a labor of love, Sadock said.
"It's been a very tough year," he said. "I'm just doing whatever I can do to survive. We're hoping Red Witch stays here forever. We're even hoping if Jakab makes a good go of it, Jakab stays here, too. … I've got three passions, and this is definitely in the top three for sure."
The Red Witch will be hosting a private event Wednesday and be ready to greet the public Friday. Sadock said all interested people who want to book a tour on either the Red Witch or the Jakab should visit www.redwitch.com.
Both day and sunset trips also are available. Red Witch will be sailing for public events Fridays through Sundays, along with private events seven days a week. Jakab can be booked for week-day events, Sadock said.
"I can't wait to get out on the lake," he said.
Back