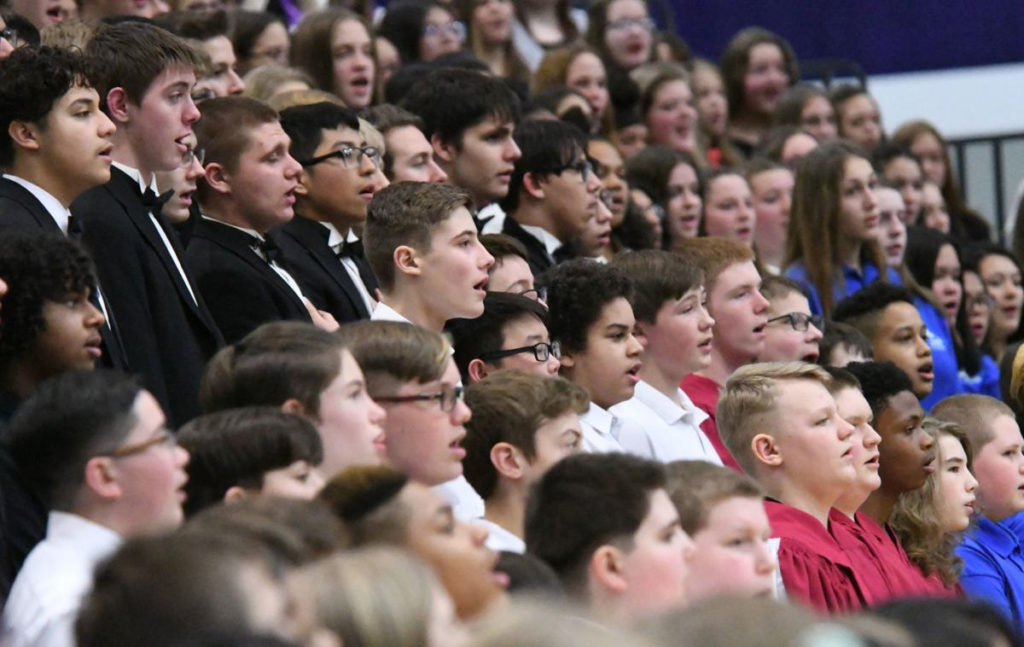 Musical memories: 1,300 KUSD students perform at Saturday choral concert
Musician Pearl Shangkuan has performed all across the globe, including such disparate locales as Tokyo and Carnegie Hall in the Big Apple. But Kenosha, she said, has left an indelible impression.
Shangkuan, who works full-time at Calvin University in Grand Rapids, Mich., served as guest conductor of the 2020 Kenosha Unified School District Choral Festival. Alongside her duties at Calvin as professor of choral music, Shangkuan routinely visits different venues as a conductor, lecturer and clinician.
KUSD's Choral Festival, in its 54th year, gives students across all grade levels an opportunity to perform in one setting. While teachers practice with the students well in advance of the concert, guest conductors such as Shangkuan help meld the entire process together with their own expertise.
"I can sniff out how well they are prepared, and this is a very well prepared group," Shangkuan said in an interview with the Kenosha News shortly before the concert began Saturday.
Shangkuan held a series of rehearsals with students over a two-day stretch — Thursday and Friday in school classrooms, in addition to a Saturday rehearsal before the evening performance.
In most instances, Shangkuan said she works with high schoolers on up. Working with students across multiple grade and skill levels and bringing their talents together in one setting, she said, is a unique experience.
"I travel all over, and I have to say — this is impressive," she said. "It really does take an entire village to put on this kind of production."
One of the highlights of this year's performance was the Elementary All-City Choir's rendition of a new piece, "See the Light." Shangkuan conducted the song, which was written by Sarah Quartel.
Kenosha's All-City Choir is only the second musical ensemble to perform "See the Light," and Shangkuan said a number of behind-the-scenes maneuvers had to take place to obtain the rights for the students to perform the song, with the caveat an actual public performance not take place prior to Saturday.
As has been the case in the past, the 1,300 students performing in this year's Choral Festival did so before a sold-out audience.
Scott Plank, coordinator of fine arts at KUSD, served as master of ceremonies. At the beginning of the show, Plank said "countless hours" were spent preparing for the performance.
For the people who did attend, Shangkuan said she hopes they have a renewed appreciation for the talent and passion that resides across the Kenosha area.
"This festival is an opportunity to celebrate the gifts of the community," Shangkuan said. "This is not just about going the extra mile — it's going the next few extra miles."
Read more in the Kenosha News.
Back