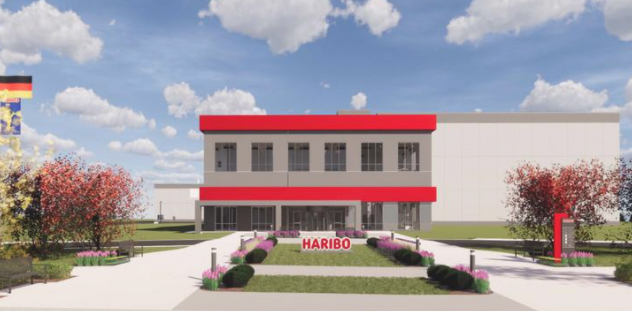 Developments flourishing in Pleasant Prairie
Make no mistake, developments in the village have been and continue to come at a fast and furious pace.
And the numbers certainly prove that.
Based on statistics provided by Pleasant Prairie Community Development Director Jean Werbie-Harris, the village has a total of 30 projects that have either been recently completed or are on deck for a future end date.
Construction values that were available for 13 of those projects — led by the ongoing Haribo office and production/warehouse building construction with a total value of $154,387,800 — total $338,983,593.
Village Administrator Nathan Thiel has had a first-hand look at the growth since his arrival in that position in 2018.
"When I first arrived, we were just breaking ground in the Prairie Highlands Corporate Park," he said. "It's neat to see that project take shape where we now have that infrastructure in place. We continue to get inquiries (about) land out there and development projects.
"When we see Aurora, Nexus, Haribo, all coming to fruition, it really is wonderful to see that progress."
All the past, current and future growth is all part of the plan, Thiel said.
"We take pride in our mission, which is to promote and preserve investment in our community, and we feel like we're living and breathing continual investment in the community," he said. "Its neat to see that growth factor taking place on a daily basis."
Haribo on track
While the completed and ongoing projects in the village are many, it's hard not to see Haribo as the cornerstone of it all, based on both size and dollars spent.
The project has an estimated 2023 completion date, and when it reaches the finish line it will fill 136.8 acres in the Highlands Corporate Park. The facility's main office and production site will be located at 12488 Goldbear Drive, along with a warehouse at 948 122nd Ave.
Included in the first phase, which will be completed next year, is a 487,400-square-foot production building with a three-story accessory/mechanical area, plus a two-story administrative and assembly area.
Also planned in the first phase is construction of an 87,866-square-foot warehouse building that will be connected by a 475-foot-long passageway that will allow raw material and products to move between the buildings on a series of conveyors.
By the end of the first phase, Haribo will have 450 full-time employees in the production facility, 44 full-time employees in the warehouse and 20 part-time employees.
"They're moving forward," Thiel said. "They broke ground last year, but I believe they were issued permits this week. They're going to be going vertical, so we're excited to see that project take shape."
Kroger, Nexus close behind
In terms of industrial projects, both the Kroger Fulfillment Center and Nexus Pharmaceuticals are two more significant developments that will reach a conclusion in the not-to-distant future.
Kroger's automated grocery storage and home delivery facility, which covers 58.4 acres, will be located at 9091 88th Ave., and should be completed in 2022. The total construction value is listed at $82 million.
The facility will include a 30,000-square-foot office building that will be attached to a 300,00-square-foot fulfillment center. The company plans to employ between 350-400 people at first, and within three to five years will have 700 employees covering two shifts.
Nexus, with a total construction value of $36.9 million, is building its three-story facility on 16 acres at 10300 128th Ave. The first of three phases, which will take a total of 10 years to finish, is set to be completed sometime this year.
In its first phase, the company will employ 70 full- and five part-time employees in three shifts. The company purchased land in the Prairie Highlands Corporate Park for $3.2 million from the village in July 2019.
"Nexus should be coming close to (finishing) their manufacturing site," Thiel said. "Kroger is also making good progress, and hopefully, they'll be operating by the end of the year"
Last year saw several industrial and commercial projects completed in the village.
In order of construction value, those included Fresenius Kabi, 11900 122nd St. ($25 million); the TaChen addition, 8500 109th St. ($14 million), which also included an industrial building with a price tag of about $8 million; STAG Industrial addition, 10411 80th Ave. ($4.4 million); Extra Space Storage, 9001 Wilmot Road ($3,995,398); Biofab Technologies, 11101 88th Ave. ($2.7 million); Volkswagen addition, 11589 88th Ave. ($2.7 million); CSW addition, 7800 95th St. (about $2.5 million); Kwik Trip Gateway, 10215 120th Ave. ($1.8 million); and Sherwin Williams, 7667 91st Ave. ($600,000).
Even with that lengthy list, there's still room — about 110 acres in the western portion of Prairie Highlands — for future growth.
"We had a couple inquiries just this last week," Thiel said. "It's too early to tell. It's mostly just calls that came in, but it's still exciting that it remains relevant. And we really haven't actively marketed the site. That's strategic. We continue to get inquiries."
Residential growth
It's certainly not just industry and commercial projects where the village continues to grow, as there are a number of residential developments that are set for completion by 2023.
The Village Green Center, which has been in the planning stages since the village purchased 96 acres of land in December 2018, is targeted for a 2023 completion date.
F-Street Development Group of Milwaukee and the village entered into an 18-month exclusivity agreement last month to get the ball rolling.
During the next 18 months, F-Street and the village will investigate the feasibility of constructing a mixed-use development facility that incorporates rental units and commercial retail space.
The overall Village Green Center space is located on 188 acres and is centered at the intersection of Highway 165 and 39th Avenue.
"The Village Green project continues to move forward," Thiel said. "We're still getting design finalized, but we're excited to be in partnership with F-Street. That's been good."
Earlier this month, the first development phase of the recently approved tax incremental financing district No. 8 in the village cleared several Plan Commission hurdles that soon will lead to the start of construction of a 300-unit apartment complex known as the Seasons at River View.
Fiduciary Real Estate Development of Milwaukee is the developer for that project. The overall plan of mixed-use developments within the TID, which will consist of both commercial and residential projects, is expected to generate $89.6 million.
There are a number of other residential projects that have been completed or in the works as well.
Finished last year was a 213-apartment complex known as Breeze Terrace, while the 120-unit Vista at Creekside is slated for completion this year.
Slated for completion next year are The Cottages at Village Green (72 units), Green Bay Trail (46 units), Primrose Retirement Community (24 senior units, 56 assisted living units, 26 memory care units) and Keystone Condominiums (18 units).
The single-family subdivision known as Ashbury East with 19 units is set to finish in 2023, while the 42-unit single-family Creekside Subdivision will reach its conclusion in 2025.
Read more at the Kenosha News.
Back