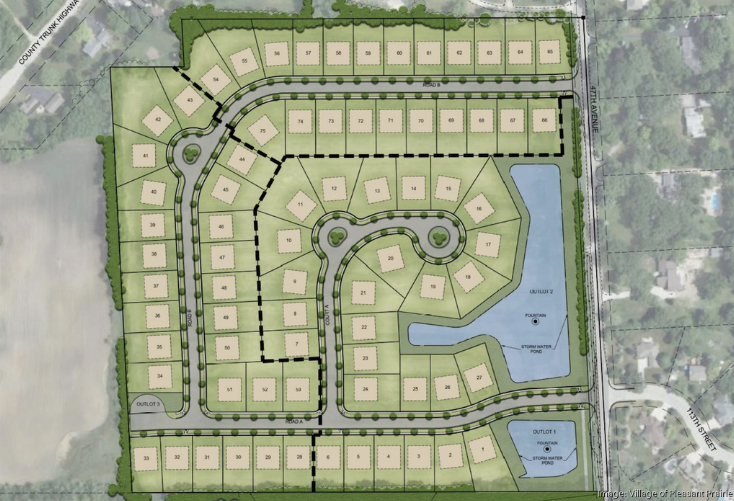 75 more single-family homes proposed in Pleasant Prairie
A week after the village of Pleasant Prairie approved early plans for a massive new subdivision with 735 housing units, a different homebuilder is proposing a development that would add another 75 single-family homes in the village.
Korndoerfer Homes and Point Real Estate, which both have offices in Brookfield, are proposing the 75-lot Cedar Ridge subdivision on 40 acres of farmland west of 47th Avenue at 113th Street in the Kenosha County village.
The developers believe there's enough housing demand in Pleasant Prairie to support the Cedar Ridge subdivision as well as the 735-unit Highland Estates subdivision.
"With all of the good things happening in Pleasant Prairie, there's still a need for single-family homes in the village," Point Real Estate vice president of development Joe Bukovich said.
JWC Investments LLC, an entity affiliated with Korndoerfer Homes, is the official Cedar Ridge subdivision developer. Point Real Estate, an affiliate of the Brookfield-based commercial real estate investment company MLG Capital, is serving as a development consultant for the home builder.
Cedar Ridge's home and lot packages would range from around $600,000 to $900,000 and average around $750,000, Bukovich said. The lots would be around 15,000 square feet, on average, and houses would be a minimum of 1,700 square feet for a ranch style and 2,100 square feet for a two-story floorplan.
Korndoerfer Homes would work with one or two other builders on the project, Bukovich said.
The lots would be built over multiple phases, with 27 lots in the first phase, 26 lots in phase two and 22 lots in phase three. Construction on the first phase could start as soon as March 2024.
Read more at the Milwaukee Business Journal.
Back