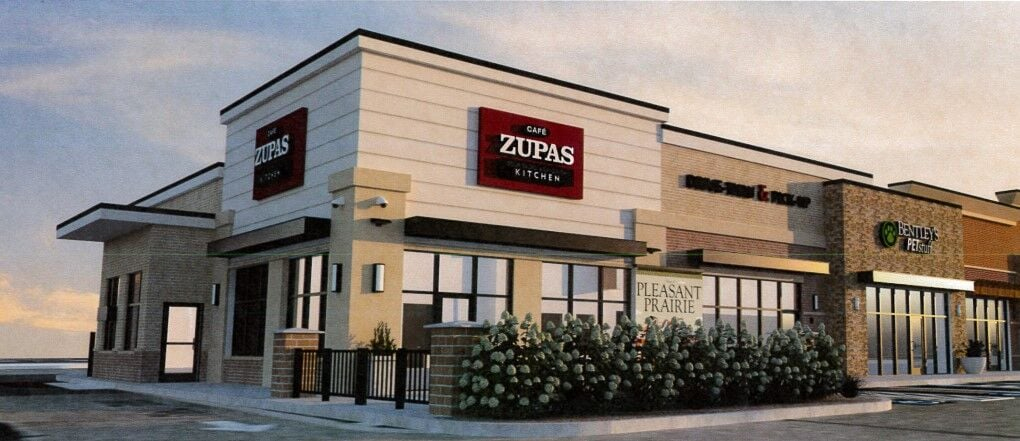 Cafe Zupas coming to Pleasant Prairie
Café Zupas plans to renovate and occupy the vacant drive-thru restaurant, formerly home to Corner Bakery, at 9250 76th Street in the Prairie Ridge development. Following a successful Public Hearing on August 21 and a favorable recommendation from the Plan Commission, the Village Board evaluated a Zoning Text Amendment for the proposed restaurant, focusing on a Planned Unit Development (PUD) Ordinance related to wall signs. Village staff presented the proposal during the August 28 Village Board meeting, and after evaluating the request, Village Board members reached a unanimous decision to approve the Zoning Text Amendment.
The approved Corners at Prairie Ridge PUD Ordinance amendment will allow up to 60 square feet per tenant per facade for wall signs. Café Zupas intends to have three distinctive wall signs, one on each building facade. These signs will span 60 square feet, ten feet by six feet, and display Café Zupas' corporate branding. Additionally, the new Café Zupas location intends to have 80 seats, employ up to 12 staff during peak periods, and have 40 new hires. The renovation plans complement the existing shopping center while incorporating the Café Zupas brand identity.
Café Zupas is known for daily-made soups, salads, and sandwiches using fresh ingredients and chef-crafted recipes. Locations typically operate from 11:00 a.m. to 8:00 p.m., with extended weekend hours, and are closed on Sundays. The company is headquartered in Sandy, Utah, and has been operating since 2004. There are currently 70 restaurants across multiple states. Café Zupas continues to grow and intends to have 78 company-owned restaurants by the end of 2023, including three in the Milwaukee and Madison markets.
Read more at PleasantPrairieWI.gov.
Back