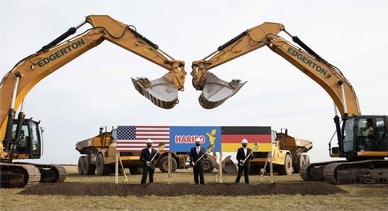 Haribo breaks ground on U.S. factory, celebrating 100th anniversary
The U.S.'s #1 gummi brand, HARIBO, has begun construction on its over $300 million investment and first-ever North American factory
 HARIBO is one step closer to bringing its first-ever North American manufacturing facility to Pleasant Prairie, Wis. following its private groundbreaking in celebration of the company's 100 year anniversary. The U.S. factory will expand HARIBO's global manufacturing network and ensure fan favorite products are delivered to U.S. customers with more speed and efficiency than ever before.
The company was planning a groundbreaking ceremony to celebrate with the Pleasant Prairie community and key partners, but due to the COVID-19 pandemic decided to postpone until further notice. The HARIBO team is looking forward to continuing to celebrate milestones throughout the construction process.
"This has been an incredible journey for HARIBO. What started in a family kitchen in Germany is now sold in over 100 countries around the world, and it's a momentous occasion for us to be able to celebrate the start of our U.S. manufacturing at the same time we're celebrating our 100 year anniversary," said Hans Guido Riegel, managing partner of the HARIBO Group. "With this substantial investment, we're strategically setting our business up for long term growth in the U.S., and we are looking forward to a bright future."
The facility is HARIBO's largest capital investment in its history and represents one of the largest direct investments by an international company in Wisconsin history. This groundbreaking highlights HARIBO's strategy to grow its business globally while remaining true to its heritage and values, grounded in a century of confectionery quality and innovation.
After an extensive search, HARIBO chose Pleasant Prairie to call home for its U.S. factory because of the shared values of trust and quality, warm welcome and work ethic of the region. The decision was further solidified by the tireless support of the state of Wisconsin, Kenosha County and the Village of Pleasant Prairie, as well as the breadth of talent and the infrastructure available to scale with the plans and growth trajectory HARIBO has set forth.
Read more at yahoo.com.
Back